Discoloration of materials
Today, modern production processes are often accompanied by a large number of quality assurance measures. This can include both complex and costly analytical procedures as well as the comparatively simple visual inspection of components and materials by experienced employees. The optical inspection of a component or a material can represent a first effective and inexpensive step in quality assurance in many manufacturing processes. If obvious features such as color or gloss correspond to the applicable specifications for a component or material, then in many cases a fault-free production process can be assumed.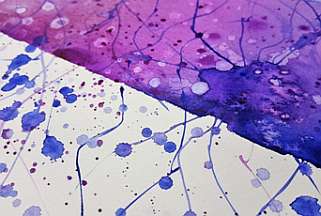 Analysis of discoloration on surfaces
However, if there are optical abnormalities, such as discoloration on materials and surfaces, then these are often first indications of a disrupted manufacturing process. In the worst case, discoloration of components can lead to the failure of entire production lines or to customer complaints. If the cause of the discoloration of components in the production process is not immediately apparent, an analysis of the discoloration by an experienced laboratory can be helpful. These usually have various analytical methods available to determine the cause of a discoloration more precisely. The experienced employee of a test laboratory will also start with an optical examination of the discoloration with the help of a strong magnifying glass or microscope. If there are indications of roughening or deposits on the surface as the cause of the color change, the associated changes in the surface topography can be examined with the aid of optical profilometry. If a thicker layer is visible, its chemical composition can in many cases be determined more precisely by FTIR analysis. However, such analysis requires a sufficient amount of sample material. If this is not the case, more sensitive vacuum-based analysis methods are often used when looking for chemical changes in the surface. An essential prerequisite for these analysis techniques is sufficient vacuum compatibility of the examined materials. The possible analysis ranges of modern analysis techniques are between a few hundred nanometers and a few centimeters. A wide variety of materials can be examined:
Discoloration of glass (mirrors, lenses, ...)
Turbidity of materials (glass, paint, ...)
Discoloration of metal (after pre-treatment, after cleaning, ...)
Discoloration of plastic (LEDs, plastic components, ...)
Discoloration of coatings (coatings, metallization, ...)
The causes of discoloration can be manifold. Discoloration of metals is often the result of oxidation processes. Differences in oxide layer thickness can have a major influence on the external appearance of products. In this case, it makes sense to analyze the discoloration using an XPS analysis. One of the experienced XPS specialists from our team will be happy to advise you.
The discoloration of polymers and plastics, for example paints and other coatings, is in many cases caused by the migration or segregation of additives and other sample components. UV and weather-related degradation processes can also lead to discoloration of your materials. With the help of a ToF-SIMS analysis in our laboratory, the underlying damage mechanisms can be identified. ToF-SIMS makes it possible to record molecular and elementary sample constituents simultaneously and to present their lateral distribution in an image. The combination of the analysis options available in our laboratory and our more than 20 years of experience in the field of surface analysis help us to always find the best combination of analysis and advice for the customer.
Tascon is your test laboratory for the analysis of discoloration
Are your products failing or do you have customer complaints due to discoloration? And are you thinking about a specific analysis of such discolorations? Then Tascon is the right place for you! Due to our many years of experience in the field of discoloration analysis, we can suggest an analytical approach to solve the issues of your product. Just get in contact with us. We look forward to your inquiry!